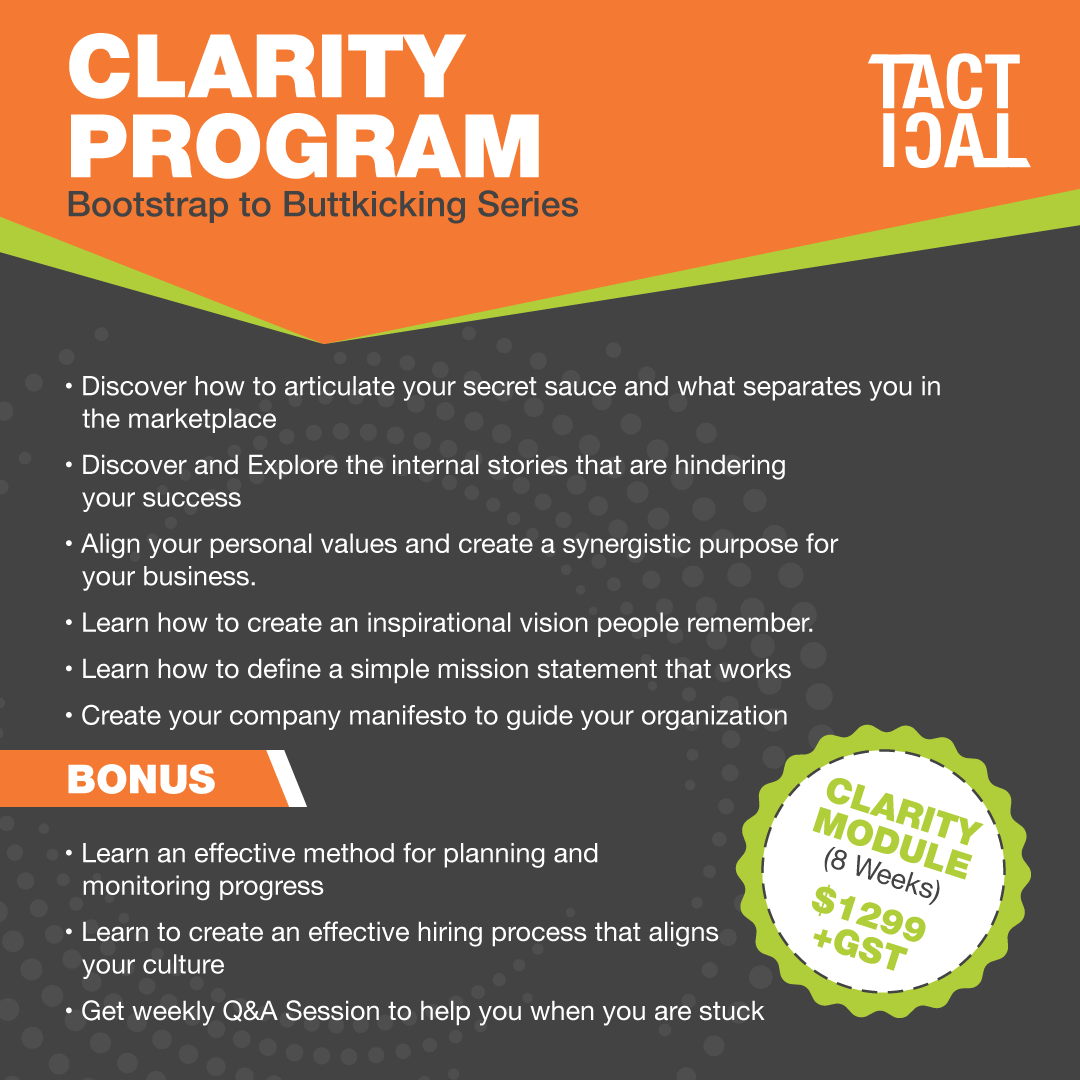 Not being able to separate yourself in the marketplace is costing you money.
Feeling like an imposter and not being able to explain how you are different than your competitor is losing you money.
Many business owners don't understand their brand and have trouble attracting amazing clients that appreciate their work.
Get the business foundation that you've been putting off!
In 8 Weeks You Will Learn
How to articulate your secret sauce and what separates you in the marketplace.
Find hidden internal stories that are holding you back
Align your personal and professional values to build momentum in your business
Create an easy to remember Vision that inspires people
Create a Mission that moves your business forward
Develop your company manifesto that guides your company's culture.
STEP 1
Register for Module
Click on button below to register for module.
STEP 2
Attend Sessions each week
Attend the guided workshop each week (8 weeks)
STEP 3
Get clear on your business
Learn step by step on how to get aligned and clear about your business.
STEP 4
Review and revisit
Review recorded sessions and refine your work by joining Q&A sessions.
Frequently Asked Questions
This module is an 8 week program starting January 9 to March 6th, 2023.
There is a training each week on Monday and an open call each week for the entire program.
Once the program is done, the weekly call will go to once a month.
Our first cohort is live and the sessions will be recorded for future students to do at their own pace.
Q&A Sessions are optional sessions where you can pop in and ask questions when you are stuck or need elaboration.
These are live and ongoing.  For the first cohort I will be hosting them weekly and then possibly tapering down to once a month unless there is a demand for them.
Traditionally speaking, if you have done branding with an agency they will likely have gone through a bit of this material.  However, they may not have been equipped to help you over common sticking points.
They may ask the questions, but they may not know how to spark you to dive deeper. 
I know that when I tried using an agency, this was a gap I experienced. I don't blame them, they only went with what I felt was right at the time. It took a deeper dive with questions that were outside of their expertise for me to really gain clarity. 
In this workshop I will help guide you through that journey.
Yes. I have worked with business owners and marketing teams within a business. 
There is often a gap between the business owner and the marketing team. It is because there is rarely any clarity and guiding documents that help the marketing team do their best work.  They are technicians and can implement things, but they are not mind readers or miracle workers.
Having the key leaders in your organization take this course will help them be more proactive in your business, waste less money and focus on getting better impact for your business.
No. Like taking an airplane, you pay for the ticket in full before you take off.
That being said, if you do not find value after the first session of the module, I will happily refund you the money. 
Discover how to articulate your secret sauce and what separates you in the marketplace
Discover and Explore your internal stories that are hindering your success
Align your personal and professional values and purpose to be synergistic
Learn how to create a Vision People Remember and are inspired by
Learn how to define a Mission that works
Create your company manifesto that guides your corporate culture
BONUS
Learn an effective method for planning and monitoring progress
Learn how to create an effective hiring process that aligns corporate culture
Weekly call where I answer questions and help guide you through the program
In the live cohort, you will have the opportunity to work directly with me, ask questions in the moment and have opportunities to network with other people.
In the recorded sessions offered later, you will only get to field your questions in the Q&A sessions held each week.
The September cohort is $1299+GST.
Future cohorts will be $999+GST.
This hybrid curriculum is a format derived from my previous 1-on-1 sessions to create a more affordable price point.
The impact of this module to those who have gone through my 1-on-1 sessions include:
Finding clarity about their roles and decision making processes in a partnership
Finding the courage to niche down their business with better clients and earning more.
Understanding how to tell customers why they are different than their competitors in a very saturated market
Discover the right mediums to market their business by understanding the impact they wanted to make.
Clearing out toxic people in their organization and rebuilding a culture that has yielded less stress and more revenue.
Discovering deep rooted stories that caused them to not promote themselves.
Realizing that they projected one identity but operated in another. This caused poor customers with skewed expectations.
Inspired their marketing team to fully buy into the company and their mission. Made them feel a sense of belonging and understood their role in the process.
So while the benefits are different for every business, what is common is that all of the above points lead to happier owners, more engaged customers, inspired employees and ultimately more money in your pocket.